Mission & History
Our Mission
The High Desert Partnership's mission is to enhance the ecological sustainability, economic well-being and social vitality of our communities by using a collaborative decision-making process with all interested stakeholders to solve challenging issues.
---
The High Desert Partnership's History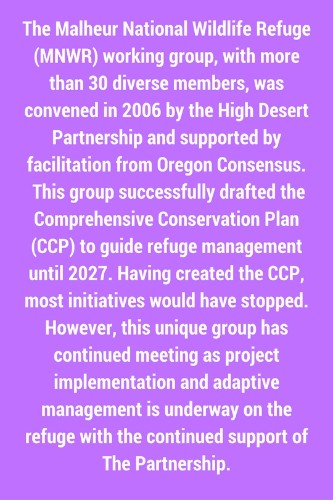 The Partnership is a grassroots organization founded in 2005 to serve Harney County and surrounding southeastern Oregon. The Partnership was created to help bring together different interest groups that would work together to develop the Malheur National Wildlife Refuge's (MNWR) 15 Year Comprehensive Conservation Plan (CCP). Our founding board members wanted to provide a forum to build better working relationships among citizens and agencies in Harney County that yield positive outcomes for the land, our rural economies, and our communities. Founding board members included ranchers Gary Marshall and Mike Bentz along with Dick Jenkins and Chad Karges of the Malheur National Wildlife Refuge. This foundational group began gathering interested landowners and working to form positive relationships with regulatory agencies.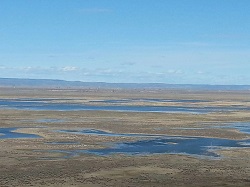 The MNWR's CCP was developed through a collaborative process with the support of the High Desert Partnership and approved without appeals or litigation. Our early work facilitating the CCP changed how our community addresses difficult issues by building relationships instead of engaging in litigation. The Partnership continues to develop the many important relationships with partners that are critical to successfully using the collaborative process. We are supporting initiatives that have positive outcomes for our environment, community and economy. The Partnership is successful in bringing diverse interests together to address challenging issues within the region through the procurement and distribution of grant funding, work products and regional recognition. Most importantly, we are earning the trust and respect of our community partners by promoting a healthy and productive community dialogue to help solve challenging issues.

---
Our Goals
The High Desert Partnership Strategic Plan outlines 5 goals for the organization:
Advance our mission and vision. We nurture existing relationships and cultivate new ones with agencies, organizations, funders, industries and individuals.
The Partnership has financial systems and secure, sustainable long-term funding that support our highly effective organization.
The Partnership has exceptional staff and board capacity to advance its mission.
The Partnership provides the mechanisms to resolve complex economic, ecological, and social challenges through collaboration with diverse partners and stakeholders.
HDP's services and successes are locally, regionally, and nationally recognized for protecting Southeast Oregon's rural lifestyles and natural resources through collaboration, open communication, and cooperation.
---
The Benefits of What We Do
When community members, government agencies, special interest groups, and other organizations sit down at the table to discuss what is important to them, their dialogue offers a way to develop and implement projects that positively impact our communities. Lawsuits and endless litigation can be avoided. The benefit of sitting down for effective dialogue has payoffs that continue to amplify throughout the system.
Mission & History

We are a rural non-profit located in Harney County, Oregon and we are dedicated to the collaborative process.