Our Story
The Decline of the Logging Industry
The logging industry used to be the heart and soul of Harney County. However, shifting federal policies, changes in ecological conditions, and a declining market for wood products meant less timber sales on the forest and the lumber mill in Hines, OR closed in the 1980s. The closure of the mill, along with other outside factors, has had a lasting negative impact on the local communities both ecologically, socially and economically. Once, one of the wealthiest counties in Oregon, Harney County is now one of the poorest, with little to offer in the way of economic opportunities. In addition, land management policies have led to unnaturally high tree densities, which combined with climate change, have caused the forest to be prone to large stand-replacing events such as fire, drought, disease, and insect infestations.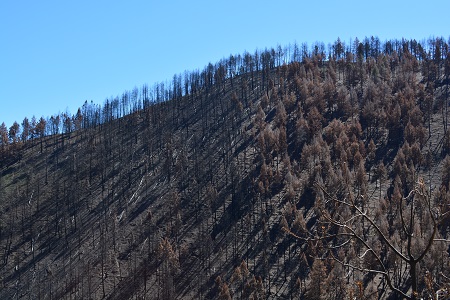 ---
HCRC is working to create fire tolerant and ecologically diverse forest ecosystems that mitigate catastrophic fires like the one above.
---
About the Harney County Restoration Collaborative
In an effort to address the critical issues facing the economic, social, and ecological sustainability in Harney County the Harney County Restoration Collaborative (HCRC) was convened in 2008 by the High Desert Partnership, Harney County Judge Steve Grasty and the Nature Conservancy with a vision to work toward finding common ground for all interested parties to improve the declining state of sustainability on the southern Malheur Forest. In the spring of 2008 Governor Kulongoski designated Harney County Restoration Collaborative an Oregon Solutions project because it had multiple benefits to communities in the southern region of the Malheur National Forest.  A Declaration of Cooperation was signed by the diverse stakeholders in 2009 and Common Ground Principles were written and agreed upon in September of 2009. Harney County Restoration Collaborative has gained widespread local support both fiscally and through meeting attendance since 2008.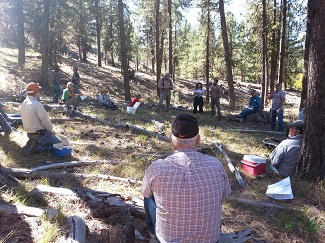 The purpose of restoration on the southern Malheur Forest is to create fire tolerant and ecologically diverse forest ecosystems, increase economic capacity by supporting new and emerging markets, and improve the ability to restore forest on a landscape scale. Partners of Harney County Restoration Collaborative represent a wide range of interests including those of land management agencies, conservation organizations, the timber industry, landowners, ranchers, and interested citizens. Partners in the collaboration come to a consensus on decisions using current scientific information and monitoring results. Jack Southworth, a local rancher out of Seneca, is the facilitator for Harney County Restoration Collaborative and has successfully led the group in the collaborative process since its inception in 2008. He has made great strides in leading multi-party interests to consensus on numerous issues surrounding ecological, economic and social impacts of forest restoration projects. As a result, none of these large projects have been litigated to date.
---
Vision For the Future
Harney County Restoration Collaborative's vision is that Harney County has:
the presence of infrastructure capable of utilizing wood products from restoration activities, increasing contractor capacity, and restoring local communities and social health
local economies benefiting from a diversity of year-round jobs related to restoration, forest management, generally, and other ecosystem goods and services
industries that are appropriately scaled to local, sustainable supply, as determined through collaborative efforts
sustainable fiber supply that is recognized as an important community value associated with forest management 
supply that is "levelized" (steady from year to year) and meeting the minimum needs of sustainable community infrastructure
citizens with pride in the forest they are stewarding and that they are recognized by those outside the area as being good stewards of the land
---
How You Can Help the Harney County Restoration Collaborative
Like what we are about? Go to our Get Involved page to find out how you can help.
Our Story

After seeing the success of collaborative efforts to the north in Grant County, it became clear a new collaborative working from Harney County was required to serve the needs of the Southern Malheur Forest.