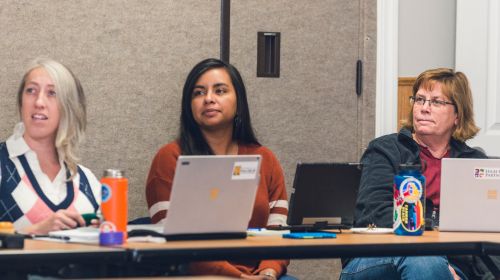 Over the last several years, High Desert Partnership (HDP) has worked to form a series of collaborative working groups to address various challenges that impact life in Harney County. In 2019, the National Policy Consensus Center, with funding from The Ford Family Foundation, partnered with HDP to create a best practices guide to inform and inspire other communities across the country to form their own collaboratives. "We don't have all the answers," said HDP Communications Coordinator Marla Polenz. "The guide is about sharing what High Desert Partnership has learned over the past 15 years, and that path of learning never ceases."
[In the photograph above is Janelle Wicks, Friends of the Malheur National Wildlife Refuge Executive Director; Alexa Martinez, Malheur National Wildlife Refuge Wildlife Biologist and Brenda Smith, High Desert Partnership Executive Director listening during a Harney Basin Wetlands Initiative collaborative meeting.]
Formed in 2005, High Desert Partnership has learned that by working together, practical solutions can be found to tackle some of Harney County's hardest challenges—like restoring wetlands and forests, mitigating wildfire, creating opportunities for youth, and growing Harney County's rural economy. HDP does this by bringing diverse perspectives together, encouraging discussion, and facilitating collaborative decision-making so people arrive at an agreeable path forward, together. 
But how does it really work? There are many different forms of collaboration, of working together, and HDP has built a model that is tailored for Harney County. It's based on working hard and always working together, because living in rural America presents its own set of complex challenges. 
This starts with HDP board members listening to the needs of the community and looking for opportunities where a collaborative process might be helpful in addressing a complex issue. Once HDP has helped establish a collaborative working group to focus on a specific issue, they support that group as it works to find common ground. Something called consensus-based decision making—a process by which all or nearly all parties agree to support a decision, identify solutions, and outline actions needed to address the issue in a way that will benefit all aspects of the community.
"HDP does not come with the solution or a point-of-view; they're there to support the process. HDP brings people together; the people in the room come up with solutions." -Jack Southworth, rancher and facilitator of the Harney County Restoration Collaborative.
Each collaborative is made up of people representing different interests of the community, and also include those living outside of Harney County who share a love and concern for our community including individuals, businesses, public agencies, tribal members, conservation organizations, and other nonprofits. The six collaboratives currently convened and supported by HDP include Harney County Restoration Collaborative, Harney Basin Wetlands Initiative collaborative, Harney County Wildfire Collaborative, Youth Changing the Community collaborative, Malheur National Wildlife Refuge Comprehensive Conservation Plan collaborative, and BizHarney, an economic opportunity collaborative.
Collaboratives work because they make it possible for those involved to get to know each other better and understand each other's needs and views. Through working together, they are better able to come up with solutions to long-standing public problems. As a result, the community is more prepared to address new challenges when they arise.
"The process takes time. It pays dividends many times over when you invest a lot in relationships. Problems come and go and relationships carry on." -Jay Kerby, The Nature Conservancy Southeast Oregon Project Manager and HDP board member.
What HDP has learned over the years about how to work together:
Build committed core teams. This means attracting and engaging respected community members in the process. People with different perspectives and interests build credibility and open the door to participants with a wide range of viewpoints.
Build relationships and trust. In advance of the collaborative working on an issue, much thought goes into choosing participants and building trusting relationships. People who find they are in a safe space and know their viewpoints are trusted and respected can openly share their perspectives which benefits the group as a whole.
Be inclusive. Be open to participation, even from naysayers as long as conversations are constructive and not disruptive. Be flexible enough to encourage those with expertise to contribute even if they have limited time or availability. 
Choose issues carefully. Start with a situation that is both challenging enough and local enough for people to care. Talk to others in the community before deciding which issues to work on and explore the range of viewpoints. 
Follow collaboration guiding principles. Give everyone an opportunity to talk and encourage people to listen carefully to each other. Work for civility and patience. Handle issues holistically meaning take into account the economic opportunity of an issue, whether potential solutions can help maintain healthy lands and water as well as Harney County's enduring rural way of life. Balance power; no one has more of a right to be at the table than anyone else. Let the collaboratives solve the problems. This principle empowers the collaboratives and makes the most of each collaborative's knowledge and creativity. Value shared learning. Seek consensus but accept partial success. Don't allow funders to prescribe outcomes. Strive for equitable outcomes for all. Use science early and often to test solutions. 
Use a skilled facilitator. Facilitators can create a safe place for conversations and watch for things that could derail the process, such as gaps in knowledge. They will make sure that everyone is heard and create trust in the process even when participants are still developing trust in each other. 
Provide collaboration support through a local independent organization. This is where an organization like High Desert Partnership plays a role. HDP stewards a collaboratives' work.  It handles meeting logistics, aids ongoing communication within the collaborative and with the community, it tracks progress, seeks funding and is always building relationships within the collaboratives and the community. 
Keep people engaged over the long term. Collaboration requires patience. There are many conversations that happen to get to the root of an issue and then many more to identify solutions. Throughout this process there are successes along the way and it's important to celebrate each success and use them as building blocks to keep the conversations going.
"I think HDP is a resounding success. If there's any takeaway for me, it's that it has to come from the community. Most rural communities don't want to be told what to do. You need to have a core group from the community to move the process ahead day after day." -Steve Grasty, retired Harney County Judge
What this all comes down to is that collaboration is about working together. For the High Desert Partnership and the six collaboratives it currently supports, the agenda is simple—create the opportunity for people to find common ground. Simply put, before an issue comes to a head, people start talking. Those who want to be part of the solution take a seat at the table. They then come together to listen, share ideas and expertise and ensure everyone is heard. It's hard work but Harney County knows a lot about hard work and this is how an agreeable path forward can be found.
Read the collaboration guide compiled by The National Policy Consensus Center.