Home

The High Desert Partnership is the background noise that few notice. Our work ensures important projects are getting off the ground in Harney County. What we do isn't flashy and is often unseen, especially by the public.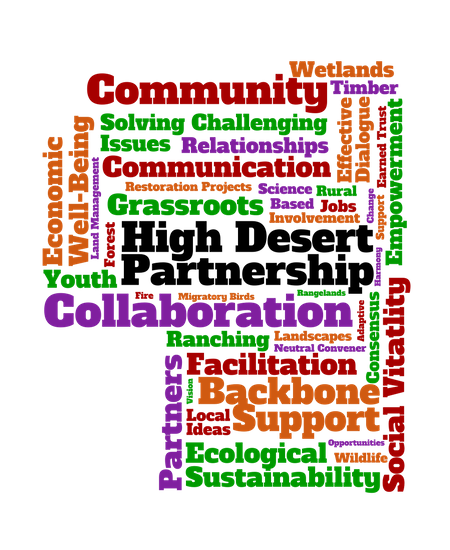 We arrange meeting times and places for collaborative groups. We take meeting notes. We steadily ensure that group decisions are acted upon and progress occurs. We provide facilitation services. We help partners secure the resources they need to see their visions turn into reality. We seek and secure funding to support initiatives and their projects. Our board and staff engage regularly in conversations with community members to enhance collaborative efforts.
And these are the consistent things we do. We often step outside our norm to meet the needs of our partners. In this way we are fulfilling our mission to enhance the ecological sustainability, economic well-being, and social vitality of our communities. Learn more. 
Our aim is to restore forest land while encouraging stewardship and improving the economic viability of our community.
Take a look.

Harney Basin Wetlands Initiative

This collaborative is working to address two major issues currently threatening migratory birds in the Pacific Flyway.
Read More.

Our newest initiative aimed at improving and expanding the experiences our youth have in our rural community.
Learn what we do.
Don Ryan, Associated Press on 10/30/2019

Collaboration is positively changing how we prevent fires, how we manage fires when they do happen and how we restore the landscape following fires. This recent article from the Associated Press and carried by the Albany Democrat-Herald looks at a study out of Oregon State University by lead author Emily Jane Davis about how Rangeland Fire Protection Associations have had a positive impact for communities like ours in Harney County. Click the headline above to read the article.

High Desert Partnership on 06/19/2019

High Desert Partnership on 04/12/2019

The culture of Harney County has been described as "full-contact citizenship," as people of this county put in time and effort every day to make Harney County a place we're all proud to call home. Our style of "full-contact citizenship" is represented consistently through several collaborative efforts. Unless you're directly involved or know someone who is, you may not even be aware of the important work these groups are doing in our community. Click the article title above to read more.