We envision a vibrant Harney County where diverse communities work together for the benefit of all.
Building a Resilient Community
Everything starts with a cup of coffee. Through the conversations we have with community members, we identify issues that we believe working together can help address. We have more cups of coffee and conversations and those who want to be part of the solution take a seat at the table. We come together to listen, share ideas and expertise, and ensure everyone is heard. Through these diverse perspectives, we can forge an agreeable path forward.
Sharing What It Means To Collaborate In Harney County
HOW We Work Together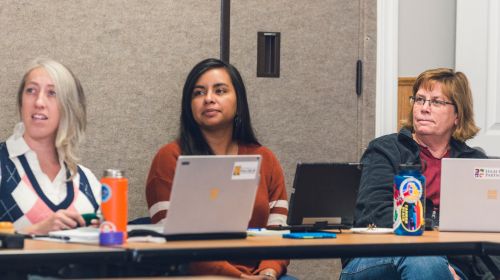 Working Hard & Always Working Together
High Desert Partnership collaboratives are working to create economic opportunity, promote healthy lands and waters, and ensure Harney County's rural way of life endures for generations to come.
Over the last several years, High Desert Partnership (HDP) has worked to form a series of collaborative working groups to address various challenges that impact life in Harney County. In 2019, the National Policy Consensus Center, with funding from The Ford Family Foundation, partnered with HDP to create a best practices guide to inform and inspire other communities across the country to form their own collaboratives. "We don't have all the answers," said HDP Communications Coordinator Marla Polenz. "The guide is about sharing what High Desert Partnership has learned over the past 15 years, and that path of learning never ceases." Read more.