Harney Basin Wetland Initiative's Goals
With organizational support from the High Desert Partnership, the initiative brings together a broad range of public and private partners working to achieve the following:
Wetland systems: Sustain and improve proper functioning wetland systems and water quality.
Carp control: Implement a basin-wide carp control strategy to address the greatest threat to the ecological health and functions of Malheur Lake and its associated wetland systems.
Traditional agricultural practices: Maintain and enhance traditional flood irrigation and haying and grazing practices that sustain important seasonal wetland habitats on private lands.
Adaptive management: Support adaptive management strategies to meet habitat objectives under Malheur National Wildlife Refuge's Comprehensive Conservation Plan (CCP) and throughout the basin.
Local support: Build local support by demonstrating the economic and social benefits of collaborative stewardship and restoration.
National model: Establish the Harney Basin Wetlands Initiative as a nationally recognized public-private partnership model for landscape-scale restoration.
Harney Basin Wetlands Initiative Flowchart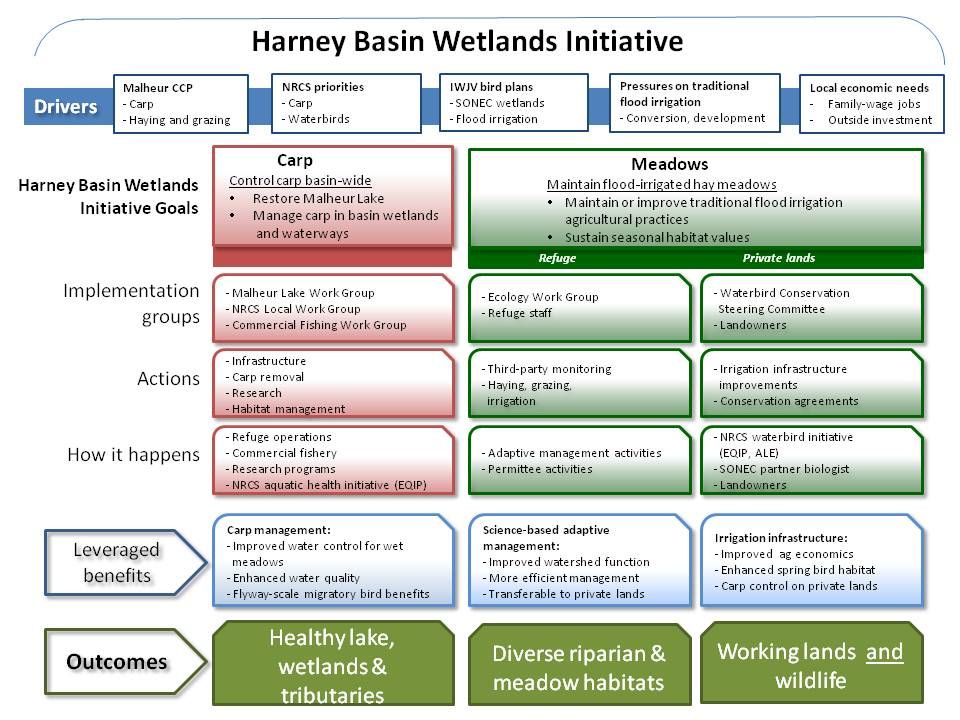 ---
Desired Outcomes
First, Harney Basin Wetlands Initiative aims to improve aquatic health by managing invasive carp and implementing habitat improvement projects to improve water quality, native aquatic plant and animal communities, and food resources benefiting migratory bird populations. The aspects of carp management and habitat projects will be carried out by the private sector providing economic benefits to the local economy. 
In addition, Harney Basin Wetlands Initiative partners hope to provide 10,300 acres of flood-irrigated spring migratory bird habitat on private lands in Harney County. Outcome success will be based on private land practices that maintain or enhance management capability for the mutual benefit of migratory birds and forage production. Conservation of strategic landholdings will be pursued particularly where the maintenance of traditional flood irrigation practices among amenable landowners can be assured for the benefits of floodplain function, socioeconomic volatility, and migratory water bird staging habitat. 
---
Ensure A Better Future For Birds and People!
You can have a huge impact in this initiative. Check out our How to Help page to see how you can make a difference.