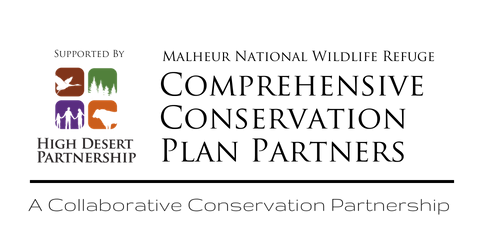 How Does The High Desert Partnership Contribute to the Comprehensive Conservation Plan?
High Desert Partnership (HDP) was created with the goal of bringing a collaborative approach to address the issues facing Harney County. We are a neutral backbone organization and don't take positions on issues. Instead we support the collaborations working to address them, in this case the ecological and economic conditions at the Malheur National Wildlife Refuge.
Our work is unique in that we do not do projects. Instead we support our partners in the projects they select by advocating for the process and not for outcomes. Each collaborative identifies the work they would like to see done, and we provide the resources needed to complete them. For the Comprehensive Conservation Plan (CCP) we provide facilitation services, coordination and logistical support as well as seasonal staff through funding from the Oregon Watershed Enhancement Board.
Through our support collaborative groups like the CCP are finding common ground on issues and are moving forward with solutions that are meaningful and impactful. We are the glue that ensures the partnerships stay together and the gas that keeps collaborative efforts creating and sustaining healthy ecosystems, a vibrant community and a strong economy.