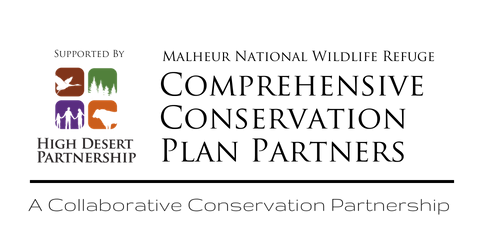 About The Malheur National Wildlife Refuge Comprehensive Conservation Plan
In January 2013, after a three-year collaborative effort with stakeholders from the local community, conservation organizations, government agencies and Malheur National Wildlife Refuge staff and experts, the U.S. Fish and Wildlife Service embarked on a long-term effort to restore the refuge's aquatic health, enhance wildlife habitat and revitalize relationships with stakeholders and the community. This process is laid out in the Comprehensive Conservation Plan (CCP) which describes a vision and priorities for the refuge and how decisions will be made into the next decade.
The innovative collaborative planning process used to develop the plan helped rebuild the relationships and communication necessary to produce a remarkable consensus around the core principles embedded in the Refuge's 15-year Comprehensive Conservation Plan:  
Ongoing collaborative approach to implementation, built around partnerships and a shared commitment to the long-term sustainability of the refuge and the larger Harney Basin's wildlife, habitats and human communities;
Commitment to science-based, active adaptive management, driven by monitoring and evaluation of results, with refuge decision making that is transparent and informed by stakeholder involvement;
Focus on aquatic ecosystem health and the subsequent benefits to waterways, wetlands and upland habitats.
At many different levels the challenges moving forward are great, but the consensus achieved in developing the CCP united a broad group of partners now working with the refuge through the Harney Basin Wetland Initiative (HBWI). While the CCP focuses on Malheur National Wildlife Refuge, the HBWI compliments it by working toward solutions for the broader ecological challenges that face land managers across the Harney Basin, including strategies to control invasive common carp and maintain important bird habitats on private lands. Learn more about the Harney Basin Wetland Initiative.
We hope you will join the Malheur Refuge staff and the many participating stakeholders, to turn the vision of the Comprehensive Conservation Plan into reality. To become involved contact the High Desert Partnership at 541 573 7820 or info@highdesertpartnership.org.