How Harney County Defeated the Takeover of the Malheur National Wildlife Refuge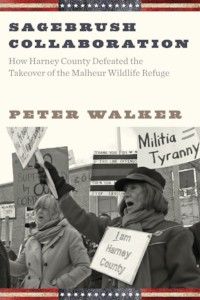 Armed militia, intimidation, threats of violence, and the cultivation of fear were no match for the resilience of Harney County residents. In January 2016, Ammon Bundy and a splintered militia following took over the Malheur National Wildlife Refuge and occupied the small rural community of Burns, Oregon for 41 days. While the Bundys and their clan walked into town looking for a revolution, they hadn't done their homework. They were walking in to a community that had quietly and patiently been building a community of resilience and trust that is the bedrock of collaboration.
"Harney County proved that in a divided nation where rural communities often do face daunting challenges and where radical activists believe they can find fertile ground for rebellion, there are alternatives to radicalization." ~Peter Walker, Sagebrush Collaboration
On January 2, 2016, a militia group led by Ammon Bundy took over the Malheur National Wildlife Refuge with the intent to stay there for years and give "back" refuge public lands to ranchers, loggers and miners. None of these stated goals were realized and the occupation ended in 41 days. Bundy's goal to give "back" the Malheur National Wildlife Refuge is a view inspired by the sovereign citizen movement, which believes the county sheriff is the most powerful law enforcement officer in the country. Bundy and his followers do not recognize any federal government authority and want federal public lands returned to whomever Bundy defines as the rightful owners.
"What the Bundys offered was nothing less than a transformation to a fundamentally new, 'federal free' social order. Collaborative approaches [with the stewardship of High Desert Partnership] had given local residents a means to minimize problems associated with use of federal lands without resorting to such radical transformations." ~Peter Walker, Sagebrush Collaboration
Sagebrush Collaboration, authored by University of Oregon professor Peter Walker, offers an in-depth perspective on the 2016 takeover of the Malheur National Wildlife Refuge and its failure because Harney County citizens had invested decades in collaboratively solving the very problems the militia used to justify their anti-federal government revolution. This story of quiet, methodical collaboration is broadly untold but a worthy topic in our divisive culture.
To learn more about Sagebrush Collaboration and High Desert Partnership call 541 573 7820 or email info@highdesertpartnership.org. You can also contact Marty Brown with Oregon State University Press at marty.brown@osupress.edu.
Sagebrush Collaboration can be purchased at:
---
REVIEWS