The High Desert Partnership is the background noise that few notice. Our work ensures important projects are getting off the ground in Harney County. What we do isn't flashy and is often unseen, especially by the public.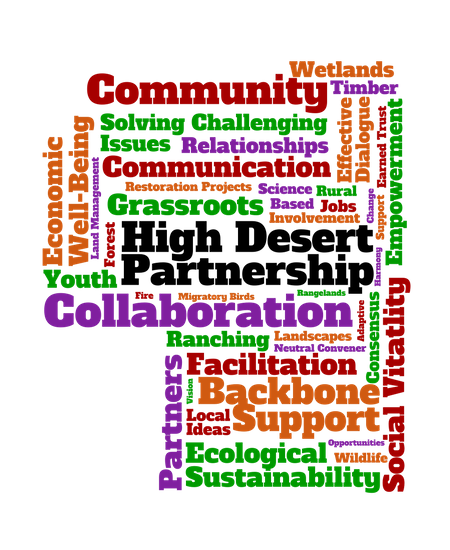 We arrange meeting times and places for collaborative groups. We take meeting notes. We steadily ensure that group decisions are acted upon and progress occurs. We provide facilitation services. We help partners secure the resources they need to see their visions turn into reality. We seek and secure funding to support initiatives and their projects. Our board and staff engage regularly in conversations with community members to enhance collaborative efforts.
And these are the consistent things we do. We often step outside our norm to meet the needs of our partners. In this way we are fulfilling our mission to enhance the ecological sustainability, economic well-being, and social vitality of our communities. Learn more. 
Our aim is to restore forest land while encouraging stewardship and improving the economic viability of our community.
Take a look.

Harney Basin Wetlands Initiative

This collaborative is working to address two major issues currently threatening migratory birds in the Pacific Flyway.
Read More.

Our newest initiative aimed at improving and expanding the experiences our youth have in our rural community.
Learn what we do.
Brent Lawrence - USFWS Pacific Region Blog on 06/12/2017

We recently received a generous donation from Rita Poe, that will support the work of Harney Basin Wetlands Initiative on the Malheur National Wildlife Refuge. Rita's generous donation to Malheur and other public lands will allow future generations to enjoy the places she cherished. You can read Rita's interesting story below.

Rylan Boggs - Blue Mountain Eagle on 06/01/2017

Iron Triangle, a Harney County Restoration Collaborative partner, is opening two new facilities in John Day and Seneca and will create at least 10 new jobs. The facilities will utilize low-value vegetation from the Malheur National Forest. Initially the facilities will produce posts, poles and chips, but may eventually manufacture torrefied products

Steve Inskeep - CBS 60 Minutes on 05/31/2017

This 60 Minutes piece highlights some of the same points that Dr. Hessburg brought up in his Era of Megafires presentation in April. You can watch the video or read it as an article!