The High Desert Partnership is the background noise that few notice. Our work ensures important projects are getting off the ground in Harney County. What we do isn't flashy and is often unseen, especially by the public.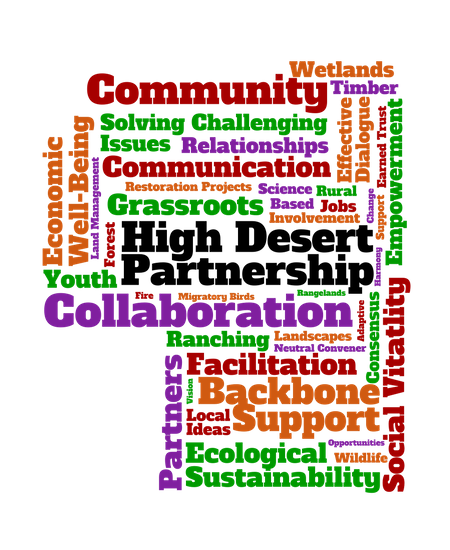 We arrange meeting times and places for collaborative groups. We take meeting notes. We steadily ensure that group decisions are acted upon and progress occurs. We provide facilitation services. We help partners secure the resources they need to see their visions turn into reality. We seek and secure funding to support initiatives and their projects. Our board and staff engage regularly in conversations with community members to enhance collaborative efforts.
And these are the consistent things we do. We often step outside our norm to meet the needs of our partners. In this way we are fulfilling our mission to enhance the ecological sustainability, economic well-being, and social vitality of our communities. Learn more. 
Our aim is to restore forest land while encouraging stewardship and improving the economic viability of our community.
Take a look.

Harney Basin Wetlands Initiative

This collaborative is working to address two major issues currently threatening migratory birds in the Pacific Flyway.
Read More.

Our newest initiative aimed at improving and expanding the experiences our youth have in our rural community.
Learn what we do.
Oregon Humanities on 12/19/2018

With over 70 percent government-owned and -managed land, Harney County is no stranger to disputes between ranchers, federal wildlife employees, and environmentalists. In many ways, the 2016 occupation of the Malheur National Wildlife Refuge (MNWR) by Ammon Bundy and his followers was the culmination of years of conflict and seemingly nonstop litigation. However, that national news story obscured the more important local story of how people in Harney County have been working to successfully resolve conflicts through collaborations like the High Desert Partnership. Click the title above to read more.

Oregonian/Oregon Live on 11/13/2018

"In the opening pages of his book, Walker announces his goal to be showing how Harney County, faced with a divisive invasion, chose not to fall on its own knives. Instead, residents elected "sagebrush collaboration." It was also the author's goal to attempt "to explain how and why Harney County made that decision." He has achieved those helpful purposes -- and more." ~Richard W. Etulain

High Country News on 06/22/2018

On the night of Jan. 26, 2016, Brenda Smith was nearing the end of a six-hour drive home from the Portland area to Burns, in Harney County, Oregon, basking in the knowledge that her scrappy nonprofit had just won a $6 million grant. The High Desert Partnership helps locals collaborate on natural resource management, and this was by far the biggest grant it had ever received. Read more . . .